Providing the best veterinary care you can find
Having a pet is great fun, but it carries along some responsibilities too. Regular medical checkups and proper care are essential for your pet's good health. Count on us to provide reliable veterinary services and medical evaluations for your pet.
A&A Pet Hospital is a full-service veterinary hospital providing extensive medical services. We provide all kinds of essential medical services and treatment that your pet may need, including vaccinations, emergency care, and physical examinations.
Call us to ask about our dog and cat vaccine packages available only for $99.00.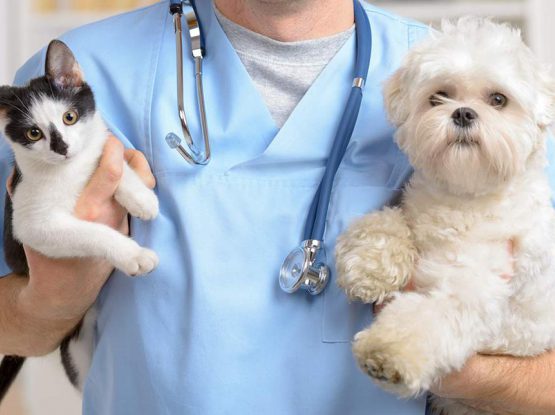 We'll make sure your pets are up-to-date with all general recommended vaccines. For Dogs: DA2PP, Leptospirosis 4-Strain, Rabies 1-Year and 3-Year, Lyme Disease, Canine Influenza and Bordetella, both intranasal and injectable; For Cats: Feline Distemper, Feline Leukemia, and Rabies 1-Year.
Our veterinarians diagnose and treat serious and chronic health problems related to your pet's internal organs. We have keen interest in endocrinology, gastroenterology, dermatology, and cardiology.
Our in-house laboratory allows us to perform routine diagnostic screening within minutes, ensuring your pet receives the most appropriate medical treatment in a timely manner. For more detailed diagnostics, we send various samples to a reference laboratory (IDEXX).
Parasite prevention and control is an important part of keeping your pet healthy and happy! We treat and prevent all parasites, from fleas and ticks to worms.
We believe the key to your pet's health starts with annual heartworm testing. We recommend annual heartworm testing and year round heartworm prevention. We offer a wide variety of oral and injectable heartworm prevention.
Fully stocked for your convenience, we offer prescription medicines for cardiac health and sensitive stomachs, Omega 3 Fatty Acids, vitamins, antibiotics, skin care products, and behavior, joint support, and liver supplements.
A complete and balanced diet is one of the most important factors in optimizing your pet's health and longevity. We provide nutritional counseling and customized weight loss plans tailored to your pet's needs. We offer a wide variety of prescription foods for and treats paired with your pet's needs.
Like us, our pets too require proper dental care to maintain a good oral health. We are proud to offer dental prophylaxis which include ultrasonic cleaning, polishing, and fluoride treatment with IV fluid administration, heart rate, and oxygen monitoring for all dental procedures.
Routine abdominal surgery (spay & neuter), some ophthalmic procedures, tumor surgeries, and feline declaw procedure.
Our state-of-the-art pet surgery center is equipped with the latest surgical equipment to ensure that your pet receives high-quality medical care by our visiting surgeon.
Providing routine X-rays in house. If necessary, we work directly with an outside radiologist for second opinions.
A&A Pet hospital seeks to improve and promote the well being of your pet. We strive for the betterment of your pet through honesty and integrity in all scenarios and hope to continue aiding you and your pet's welfare well into the future.
46670 W. Pontiac Trail Unit 10
Commerce Township, MI 48390
Hours of Operation
Sunday: Closed
Monday: Closed
Tuesday: Closed
Wednesday: 9:00 am to 6:00 pm
Thursday: 9:00 am to 6:00 pm
Friday: 9:00 am to 6:00 pm
Saturday: 9:00 am to 6:00 pm